When we turn on to the current news via the television, radio, newspapers or internet, we are fed with the information that the global recession and slow economic growth are currently happening in Europe and the United States. However, many of us aren't aware to the current situations in the Asia market. Even though many news reported that the economic growth in Asia is heading positive and healthy growth, especially from the strong players such as China, South Korea, Singapore, Malaysia, Thailand and Indonesia. However, these countries begin to heading towards "worrying" stages of high inflation and household debts.
How do the Asians end up with higher household debts? Asians keep pushing themselves to purchase more than one property as they believe it is value for investment business, while the banks keep offering attractive mortgages without much regulations and investigation required. When the economy is slowing down and heading to recession, we will be seeing some property bubbles which is a similar situation in the United States during the crisis of subprime lending in 2008. We will expect more property owners are letting go their properties as they are unable to pay mortgages when there is an adjustment to the higher interest rates. Thus, the property prices will fall when there is an oversupply of the property in the market.
Beside that, Asians develop more purchasing power to spend on expensive cars, luxury items, to enjoy on luxury lifestyle and traveling, which ended with more credit card debts, since many of them can't afford to pay off from their salaries. Status and brand image on oneself is very important in their professional jobs at the moment, they are stepping into the society world in Asian countries.
These are some of the news related to consumer inflation and household debts amongst the Asia countries which I have compiled from different sources:
Investing 101: Start budgeting, reap savings
July 22, 2013 at 10:46 AM ET Source: TODAY, Your Money
Americans, it's time to start budgeting.
According to a Gallup survey released in June, two-thirds of Americans don't prepare a detailed household budget. That's why TODAY is kicking off a five-part series, Investing 101, beginning with budgeting. In the coming week, we'll also look at mortgages, 401(k)s, stocks and bonds and retirement savings.
But first, budgeting. If you aren't budgeting wisely, chances are that you have more debt than you'd like, and you're not saving, or not saving enough.
I recommend thinking about your budget as a pie, with the first 10 percent automatically going to savings via transfers. This is the one category that should not be negotiable but one that goes unfulfilled by 50 percent of American families.
Thirty-five percent of your budget should be carved away for housing – not just your rent or mortgage, but repairs, taxes, utilities, decorating and furnishing and insurance. Sticking to this guideline will prevent you from overborrowing, which got many in trouble during the housing crisis.
A quarter of that pie is for living expenses, a tricky category because it's the one where we most often spend too much money. That includes groceries, clothing, entertainment, gifts, childcare and health care.
About 15 percent will go toward transportation, which could include car payment, maintenance, gas, tolls and insurance. If you can reduce this amount by driving an old car rather than buying a new one, you can put that money toward saving or repaying credit card debts – and make a bigger dent.
The final 15 percent goes toward other debt repayment. Here we're talking about credit card debt and student loans. Student loan debt average close to $5,000 per U.S. adult.
Tips to meet that budget:
Track your expensesBudgeting takes discipline. The first step is to keep track of what you spend. Keep a small notebook in your bag or back pocket, or download a smartphone app like Mint or Expensify (both free). Or collect receipts in your wallet and categorize them when you get home.
Cash over creditYou've heard it before, but it's not a cliché: Use cash whenever possible. Studies show that people are more likely to focus on the cost of a product when they use cash, and therefore may be less likely to spend it than if they are using a debit or credit card.
Set up automatic savingsHave a wedding to attend next summer? A big trip or college? Set up a separate savings account linked to your bank account and schedule money to be regularly transferred. A small amount every paycheck goes a long way over a year, or even six months.
Invest a little at a timeYou can start investing with very little. TDAmeritrade and ETrade will let you invest in an IRA with no minimum requirement -- you'll want to add to it every time you get paid or every month to see the money build. You can start an AIP -- automatic investment plan -- at Ariel Funds for $50 a month and at Charles Schwab for $100 a month.
(Source: http://www.today.com/money/investing-101-start-budgeting-reap-savings-6C10700035)
European Shares Drop With Asian Stocks Before Fed Meeting
By

Kyoungwha Kim

&

Emma O'Brien

-

Jul 31, 2013 3:19 PM GMT+0800 Source: Bloomberg News
European and Asian shares fell and the dollar held gains against major peers before the Federal Reserve meets today. Metals advanced as India's rupee weakened.
The Stoxx Europe 600 Index lost 0.4 percent by 8:15 a.m. in London. The MSCI Asia Pacific Index dropped 1 percent, cutting the first monthly advance since April to 1.5 percent. Japan's Topix Index (TPX) tumbled 1.5 percent and India's S&P BSE Sensex slid 0.6 percent. Standard & Poor's 500 Index futures fell 0.1 percent. The rupee declined 1 percent to near a record as Malaysia's ringgit headed for the weakest close since 2010. Silver climbed 0.6 percent.
The Fed has indicated its $85 billion monthly bond buying could be trimmed should the U.S. economy meet its forecasts, though Chairman Ben S. Bernanke has said there's no fixed schedule for tapering stimulus. The government is set to report gross domestic product today and jobs data this week, while a report showed German retail sales unexpectedly fell in June.
"The market will pore through every word in that statement," Bob Van Munster, head of Australian equities at Tyndall Investment Management Ltd. in Sydney, which oversees about $21 billion, said by phone, referring to the Fed's post-meeting announcement. "The overall message is we are coming to an end of quantitative easing but we are going to manage it according to the data that comes out."
Earnings Reports
The Topix's decline was led by utility shares on the busiest day of Japanese earnings with Panasonic Corp., Mitsubishi UFJ Financial Group Inc. and Honda Motor Co. among those reporting. Twenty nine of the 33 industry groups fell, with volume 6.2 percent below the 30-day intraday average. The gauge is headed for a 0.2 percent loss this month.
South Korea's Kospi (KOSPI) Index fell 0.2 percent today, poised for a 2.7 percent advance in July, while Australia's S&P/ASX 200 Index added 0.1 percent. Indian stocks fell for a sixth day, the longest losing run in almost four months, led by banks and consumer shares. The Shanghai Composite Index rose 0.2 percent, paring a gain of 1.3 percent.
Chinese President Xi Jinping vowed to stabilize growth while pursuing reforms, the official Xinhua News Agency said yesterday. The government is targeting 7.5 percent growth this year, a goal that could be under threat after a second quarterly slowdown.
Growth, Jobs
Property developers rallied in Shanghai on speculation over government stimulus. China Vanke Co. and Poly Real Estate Group Co. advanced at least 2.8 percent. The gauge, which doubled in 10 months through August 2009 as the government poured $652 billion of stimulus into building roads, railways and housing, has tumbled about 43 percent from its high, destroying $748 billion in market value, data compiled by Bloomberg show.
German sales adjusted for inflation and seasonal swings dropped 1.5 percent from May, when they rose 0.7 percent, the Federal Statistics Office in Wiesbaden said today. Economists predicted an increase of 0.2 percent, according to the median of 25 estimates in a Bloomberg News survey.
Gross domestic product in the U.S. probably climbed 1 percent in the second quarter, after expanding 1.8 percent in the first three months of 2013, according to the median of 84 estimates compiled by Bloomberg. Payroll data, to be released Aug. 2, will show employers added 185,000 workers in July, after increasing 195,000 in June, a separate survey shows. The jobless rate probably fell to 7.5 percent from 7.6 percent, according to economists' projections.
Ringgit, Rupee
The Bloomberg Dollar Index, which tracks the greenback against 10 major peers, rose 0.1 percent to 1,027.58 after adding 0.3 percent yesterday to cut a 1.2 percent drop in July. The yen was little changed at 98.03 per dollar, near the highest in a month, and rose 0.1 percent to 129.92 per euro, after weakening 0.1 percent yesterday and gaining 0.4 percent July 29. The euro was little changed at $1.3259.
The ringgit slipped 0.7 percent to 3.2487 per dollar, bringing its drop in July to 2.7 percent, a third month of depreciation, after Fitch Ratings cut the nation's credit outlook to negative from stable, citing rising debt levels.
The decline pushed the ringgit beyond the limits of the Bollinger band, signaling a reversal may be imminent, data compiled by Bloomberg show. That's the biggest deviation in developing markets. Stochastic oscillators also showed the ringgit is oversold.
India's rupee weakened to 61.06 per dollar, following a 1.8 percent slide yesterday. It touched 61.17 earlier, just shy of the all-time low of 61.2125. The Reserve Bank of India Governor Duvvuri Subbarao held the key interest rate at 7.25 percent yesterday and said measures taken this month to tighten cash supply "will be rolled back" as the currency stabilizes.
Copper, Gold
The Australian dollar fell 0.5 percent to 90.16 U.S. cents after sliding the most since June 19 yesterday. The currency is down 1.3 percent in July. Reserve Bank of Australia Governor Glenn Stevens said yesterday that inflation data may indicate there is room for cuts to benchmark borrowing costs. Traders saw a 95 percent chance that the RBA will cut its cash rate by 25 basis points, or 0.25 percentage point, at its Aug. 6 meeting, swaps data yesterday compiled by Bloomberg showed.
In Europe, the Frankfurt-based European Central Bank will leave its key interest rate unchanged at 0.5 percent tomorrow, according to all but one of more than 60 estimates compiled by Bloomberg. The Bank of England will keep its bond-purchase program at 375 billion pounds ($571 billion) and its key rate at a record low 0.5 percent, separate surveys showed.
Industrial metals rose on the London Metal Exchange, with nickel adding 1 percent, copper gaining 1.3 percent and aluminum climbing 0.3 percent. Silver was up 0.6 percent.
(Source: http://www.bloomberg.com/news/2013-07-30/japan-futures-drop-on-steady-yen-before-fed-wti-rebounds.html)
Asia is lending itself to higher debt risks
Publication Date : 12-03-2013 Source: Asia News Network & The Straits Times
As the United States and Europe fret over their huge government debts, a different kind of debt worry is surfacing in Asia.

Analysts are flagging the rise of lending levels in the region, such as bank loans and corporate bonds, as a growing concern.

Stable growth, strong bank deposits and global low interest rates are fuelling what is seen as a potentially risky appetite for lending among banks on the one hand, and for debt among individuals and companies on the other.

Borrowings as a proportion of the overall economy in Asia apart from Japan have already shot past the peak that prefaced the Asian financial crisis, suggesting that debt levels have risen relative to the ability to service them.

The risk of a country's growing dependence on such debt is that it becomes more vulnerable to economic and financial shocks. An economy with higher leverage is likely to see more business failures and loan defaults in a recession or if interest rates rise sharply, all else being equal.

Bank loans as a proportion of gross domestic product (GDP) have reached an all-time high in Asia excluding Japan, surpassing the peak prior to the 1997 Asian financial crisis, said HSBC economist Frederic Neumann.

That is troubling because a poorly supervised lending boom in Asia had contributed to the 1997 crisis, by making the region's banking sector more exposed to the subsequent plunges in asset and currency values.

Including bonds - a rarity in the 1990s but having sold in record levels in recent years - the measure of debt would be even higher, Neumann added.

This is worrying as the rise in credit is outpacing the growth in economic output, he said. "In short, more and more debt is needed to generate one percentage point of GDP growth."

To restore balance, Asia's economies need to keep stepping up productivity, Neumann said. In the meantime, as long as loose monetary conditions in the developed economies continue to spur global funding and keep borrowing costs low, the region's leverage is likely to grow even more this year, he added.

Outpacing the region

Witjin Asia, Singapore is one of the countries seeing both higher levels of and faster growth in private sector lending.

In terms of average debt to GDP, Singapore comes second after China among major emerging Asia economies, said Goldman Sachs analyst José Ursúa in a recent note.

China's credit was 127 per cent of GDP last year, on average, while Singapore's was 115 per cent, he said. Malaysia and Thailand logged debt of about 110 per cent of GDP on average last year.

South Korea's ratio was 99 per cent, India's was 51 per cent and that of the Philippines and Indonesia was around 30 per cent.

In response to queries from The Straits Times, the Monetary Authority of Singapore (MAS) said that as of the fourth quarter last year, Singapore's private sector domestic debt-to-GDP ratio was 118 per cent.

Not only are Singapore's absolute lending levels high, but they have been growing faster recently than most of its neighbours'.

Among Asian countries, Singapore and Thailand have seen the steepest year-on-year rises in their bank credit to GDP ratios over the last two years, according to Johanna Chua, Asia-Pacific chief economist for Citi.

Homing in on debt worries

In Singapore, concern over credit levels has mainly manifested in worries over property debt.

DBS economist Irvin Seah notes that mortgage loans are at an all-time high, as a proportion of both the overall economy and of total deposits.

"The property market is the new safe deposit box for Singaporeans," he said. "This implies rising risk exposure of the banking system and of the entire economy to the property market."

According to the MAS' latest financial stability review, property-related exposure made up 46 per cent of domestic loans extended to non-bank entities as of September last year.

But this was down from the average of 48 per cent since 2004, and the growth in such lending had moderated over the last year.

On a household level, the trends are more worrying. Household assets grew by 7.8 per cent year-on-year in the third quarter of last year, but household debt grew by a bigger 10.4 per cent, driven largely by housing loans.

This has led to Singapore's household debt to GDP ratio topping the eight Asian economies surveyed in the MAS' review as of September last year, including South Korea, Thailand, Indonesia, Taiwan, Hong Kong and China.

Should interest rates rise, buyers who have over-extended themselves on mortgage loans would be hit, especially since the "vast majority" of home loans in Singapore are based on floating-rate packages, the MAS said.

If mortgage rates go up by 4 percentage points, the mortgage-servicing ratio for the average household will increase by 13 percentage points, it added.

Take a person with a mortgage rate of 2 per cent, who is spending 30 per cent of his income on loan repayments. If his mortgage rate shot up to 6 per cent, he would then need to pay 43 per cent of his income to cover the increased payments, this indicates.

Worries over rising property- related indebtedness prompted the MAS to impose tighter home loan limits this year, including loan caps and higher cash downpayments on second or subsequent mortgages, and curbs on mortgage-servicing ratios for HDB flat loans.

Rumours have also surfaced that similar mortgage-servicing ratio limits are in the works for private home loans.

Early alarm

The good news - so far - is that while analysts are sounding an early alarm on the rise in debt, they do not think it has reached a dangerous point.

Chua noted that rapid credit growth and a higher- than-usual rise in debt to GDP "do not always lead to some form of systemic banking crisis".

But research shows that more often than not, credit booms are followed by an extended period of below-trend growth, she said.

"We think this potential for a subpar growth outcome is a risk factor we need to watch in Asia."

Standard and Poor's credit analyst Tan Kim Eng also noted that debt to GDP ratios may sometimes overstate financial risk.

In financial hubs such as Hong Kong and Singapore, many companies invest abroad using domestic loans, but the value created by their investments is not included in domestic GDP. That tends to overstate the debt to GDP ratio in these economies.

Total credit extended in the region to non-bank entities also remains lower than that in most parts of Europe, and Asian lenders have more diversified credit risk than their counterparts in Ireland and Spain, Tan added.

Still, he warns that a marked slowdown in economic growth in the region could expose current weaknesses associated with the recent ramp-up in debt growth.

If growth in China slows sharply before that in the developed economies pick up, Asia's economic activities will be adversely affected and loan defaults may start to rise, said Tan.

"More than before, continued economic and financial stability in the Asia-Pacific will require greater awareness of the risks," he said.

"Otherwise, we could find the credit crisis complete its global tour by revisiting the region."
(Source: http://www.asianewsnet.net/Asia-is-lending-itself-to-higher-debt-risks-43900.html)
CHINA
China's debt: a crisis in the making?
May 31, 2013: 9:19 AM ET

Source: CNN Money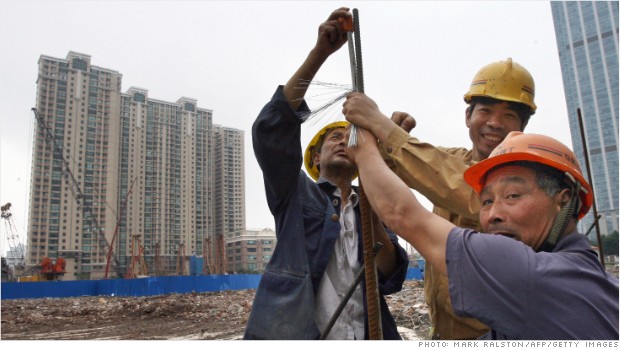 China's debt has grown substantially in the past decade, fueling infrastructure projects.
The world's second largest economy has a debt problem.
China's credit boom has saddled unworthy businesses with large loans, fueled the country's shadow banking system and put local governments on the hook for billions.
Swiss bank UBS calculates that central government debt was equal to 15% of the economy at the end of 2012. That number spikes to 55% when debt racked up by local governments and agencies is included.
If corporate and household debt is also counted, China's total debt load balloons to more than 200% of gross domestic product.
Plenty of countries have more debt by that measure, including South Korea, Japan and the United States. But compared to other developing economies, China is at the top of the range.
"Should we worry about China's debt problem?" asked UBS analysts recently in a research note. "The answer to that question is a definitive yes."
Analysts worry that credit is becoming inefficient, increasingly dominated by unregulated lenders, and reaching a scale where it could sap growth if central government is forced to stand behind defaulting local governments or agencies.
China's borrowing binge has had its benefits. When the global financial crisis hit in 2008, the government ordered the credit lines open. Banks and other lenders responded, funding massive building and infrastructure projects. In 2009, only one country -- Qatar -- was issuing credit at a faster rate.
The increased investment allowed China to escape the crisis relatively unscathed. GDP growth, which had been humming along at 10%, moderated to 8%. But China escaped the "hard landing" experienced in other countries.
Here's the problem: credit issuance is once again spiking, but growth hasn't materialized, leading some to question whether China's debt-fueled engine is stalling.
"It seems credit growth has become less effective in generating [economic] growth," the UBS economists noted.
Adding to the worries, more and more credit in China is being issued by trust companies, securities dealers and underground operators that make up the shadow banking system.
At the same time, local government finances in China are notoriously opaque, and financial partnerships with local businesses are particularly murky. Local government debt levels are now so high that Beijing could, at some point, be forced to assume some of the burden.
Last month, Fitch Ratings cut one of China's key debt ratings. The agency issued the rare downgrade in part because of rising easy credit and the influence of the shadow banking system.
Yet some other analysts believe China's debt woes are overstated, largely because of the role the state plays in the economy.
China has trillions of dollars in assets that could be used to pay down debt. Local governments, for example, own land that could be sold to prop up state-owned enterprises.
Plus, the economy is still expanding by 7% to 8% a year -- a quick enough pace to absorb much of the growing debt burden.
Should the economy slow, however, and loans start to sour, the government may seek to limit the damage by providing financial support to the network of state-owned banks, utilities and manufacturing firms that dominate the economy.
According to analysts at Standard and Poor's, the costs would be "spread across the Chinese economy."
But they also warn that using government resources in this way would further distort the economy and possibly undermine growth in the long term.
"Over the long term, these distortions might prove more costly to the Chinese economy than if banks were to realize credit losses upfront," S&P said.
(Source: http://money.cnn.com/2013/05/12/news/economy/china-debt/index.html)
South Korea's household debt-to-income ratio hits 9-year high
South Korea's household debt-to-income ratio hit a 9-year high in 2012, according to Bank of Korea data released today.
Geoffrey Cain and Samantha Stainburn
April 24, 2013 11:00
Source: Global Post
SEOUL, South Korea — South Korea's household debt-to-income ratio hit a nine-year high in 2012, according to Bank of Korea data released Wednesday.
The ratio — which measures the ability of Korean households to repay debt with disposable income — rose to 136 percent, up from 134 percent in 2011, Yonhap News Agency reported.
Much of the growing household debt burden in South Korea owes to skyrocketing cost of attending universities and after-school academies, along with the intense pressure for young Korean couples to take out mortgages for apartments at premium prices despite an oversupply of rooms.
South Korea in the red Households' disposable income rose 4.1 percent in 2012. Loans and purchases on credit rose 5.2 percent to $857.2 billion.
In the big picture, the debt is just as much a social problem as it is economic. Experts say it's a symptom of the impossible standards that South Koreans set for themselves in an over-achieving society.
Last week, a report published by McKinsey even noted that the country will find relief should Koreans stop the "education arms race": the desire of parents to pay exorbitant fees for their children to attend elite schools from a young age — with the eventual goal of attending the Ivy League or its Korean equivalent.
Cho Dong-chul, an economist at the Korean Development Institute, recently told GlobalPost that a government bailout isn't the best option, because public funds should be put towards programs that are more effective for the market.
One problem, he said, is that too many Koreans are going to college and becoming over-educated for the jobs they're taking after graduation.
Ballooning household debt has been an issue for South Koreans for a while.
According to the Financial Times:
Its consistent growth over the past decade has been driven by factors including property speculation, high spending on private education and corporate deleveraging after the 1998 Asian financial crisis, which prompted banks to turn to consumers for credit growth.
In March, the new government led by President Park Geun-hye launched a $1.3 billion fund to bail out some households that are struggling to repay loans, the Financial Times reported.
Interesting to note: Korean conglomerates like Samsung might be unable to repay their debts too, according to the Financial Times.
The top 30 conglomerates in Korea have almost $900 billion in debt.
(Source: http://www.globalpost.com/dispatch/news/regions/asia-pacific/south-korea/130424/south-korea-s-household-debt-income-ratio-hits)
South Korea in the red
Like their American counterparts, many South Koreans are swimming in household debt.

Geoffrey Cain

January 18, 2013 07:00

Source: Global Post
SEOUL, South Korea — He's worked all his life to graduate from an elite university this year. But in a tight job market, Kim Jun-sang, 23, is worried about escaping his pileup of debt. Sound familiar?
With $20,000 in private loans and a soon-to-be wife, Kim is also concerned that he won't be able to support his new family, or his father's faltering business.
"The job market is so bad," he said. "The only option to be debt-free is to get a good job. But because of debt, we need a part-time job and can't study as much to get that position. So I've found that debt really traps you into a cycle, as if there are not as many opportunities later."
Like their American counterparts, many South Koreans are swimming in household debt — in part because they're under enormous pressure to radiate success in this high-achieving society.
It's common for middle-class Koreans to take out mortgages for expensive apartments, max out their credit cards on designer handbags and jewelry, and borrow money to cover university tuitions in a country where 80 percent of people attend college.
Another growing group of debtors: self-employed workers who take out loans for their businesses. Large Korean conglomerates, known as "chaebol," prefer hiring young workers at the expense of middle-aged ones, requiring them to leave corporate jobs and start businesses partially funded by debt.
For many, the rat-race amounts to entrapment. According to a June report from Moody's, more Koreans — especially the poor and elderly — are borrowing just to pay their living expenses.
Last year, household debt stood at 152.3 percent of disposable income, a slight decline from the previous year but still one of the highest in the world. As of September, the total came to $888.8 billion, equivalent to three-quarters of the South Korean economy.
What's more worrying is that the ratio is higher than the pre-recession number in the US. It's a burden that threatens to slow consumption and hurt markets, even though most analysts aren't forecasting an all-out crisis quite yet.
Debt reset?
South Korea was once a nation of frugal savers. But the debt-induced 1997 Asian Financial Crisis wrecked the country's conglomerates and brought a bailout from the International Monetary Fund. The government relaxed its interest rate policy, fostering a growing mortgage market.
The dilemma, though, is that traditional banks, which target higher-income customers and are bound by stricter regulations, haven't been funding the entire windfall. Lower-income Koreans have been turning to a growing industry of non-bank financial institutions that are not held to the same account—and that disburse loans with abysmal interest rates.
President-elect Park Geun-hye, who won the election in late December stumping on a platform of "economic democratization," is promising relief when she assumes office in February.
On Tuesday, her transition team — a group of experts appointed to brainstorm policies for the incoming administration — discussed plans for helping the "house poor" with the country's financial regulator, the Financial Services Commission (FSC).
As early as this month, the FSC will reportedly send a bill to the National Assembly that will allow banks to sell "covered bonds." The devices look like the mortgage-backed securities infamous for their role in the 2007 housing debacle in the US.
But there's one big difference: if a homeowner defaults, the bank takes a loss, and bondholders can recover damages if the bank also defaults on its bonds. The solution only accounts for mortgages, which make up two-fifths of household debts.
Peter Cheung, deputy spokesman for the FSC, couldn't confirm the details of the transition team briefing, saying the information has not officially been made public. But the commission says that even though low-income and elderly borrowers are feeling the most pain, the debt issue is "manageable."
Not everyone agrees that the incoming administration should intervene.
"This is a market problem. Households that borrowed should be responsible for repaying, and taxpayer money should be put to a productive use," said Cho Dong-chul, an economist at the Korean Development Institute, a government-founded but autonomous think-tank.
He added that unlike in North America, where the banking sector took a hit from the crisis, the burden of defaults in South Korea would fall more on homeowners themselves. But there's good news: the default rate on mortgages is less than 1 percent, partially because the average South Korean household has assets worth six times more than its debts.
"No one knows for sure whether it's a bubble before it actually collapses," Cho said. It's an uncertainty that gnaws at students like Kim who, despite their academic cachet and English fluency, are uneasy about putting off plans for marriage and travel — at least, should the warnings turn out pertinent.
(Source: http://www.globalpost.com/dispatch/news/regions/asia-pacific/south-korea/130117/south-koreans-household-debt-cycle-crisis)
Bank of Thailand: Rising Household Debt a Concern
By Warangkana Chomchuen June 18, 2013, 6:32 PM
Source: The Wall Street Journal, Southeast Asia
BANGKOK—Thailand's government has launched a slew of programs over the past couple of years to drive up consumer spending and propel the country through the global economic slump.
But as the government encourages shoppers with the likes of tax rebates for first-time buyers of cars and houses and a multibillion-dollar subsidy for rice farmers to boost rural incomes, the country's central bank chief is warning about debt.
Household borrowing rose to 78% of gross domestic product in 2012, Bank of Thailand Governor Prasarn Trairatvorakul told reporters Monday evening, adding that a level of 80% might put the country's financial stability at risk. At 8.82 trillion baht ($286 billion), household debt in 2012 was up 88% from 2007, when it stood at 4.68 trillion baht, the central bank data showed.
Bank of Thailand Gov. Prasarn Trairatvorakul, here in January, says household debt is surging toward the destabilizing point.
About 40% of the total household credit was issued by commercial banks, while 30% was issued by government financial institutions, such as the Government Housing Bank and the Bank for Agriculture and Agricultural Cooperatives.
Mr. Prasarn cited government stimulus programs, such as the auto-buyer incentives, as a factor in credit growth. About 1.2 million vehicles were sold under the first-car tax-rebate program, introduced by Prime Minister Yingluck Shinawatra last year to boost domestic spending after widespread flooding devastated the country's economy in 2011.
Many of the stimulus measures are similar to those championed by Ms. Yingluck's older brother, Thaksin Shinawatra, whose aggressively pro-growth policies as prime minister became known as "Thaksinomics" before he was ousted in a military coup in 2006.
But now the Thai economy is beginning to slow. Seasonally adjusted, first-quarter GDP was down 2.2% from the previous quarter as headwinds from China and elsewhere began to affect exports and consumer confidence. A Thai government economic-planning agency recently reduced its growth forecast for the year to between 4.2% and 5.2% from between 4.5% and 5.5%.
Bloomberg News

A Bangkok car dealership in April, enjoying the boost in demand created by the government's buying incentive.
With the global outlook still uncertain, Mr. Prasarn said he is worried about the ability of lower-income Thais to repay debts, and about the effect of that debt burden on future consumer spending.
He said the central bank is keeping a close eye on the situation before introducing any regulatory measures to tamp down borrowing. "We don't want to overreact," Mr. Prasarn said.
In the meantime, the Bank of Thailand is reaching out to commercial banks to ease back on advertising for personal loans and urging Thais to be more prudent in their financial planning.
Wilawan Watcharasakwet and Nopparat Chaichalearmmongkol contributed to this post.
CorrectionSeasonally adjusted, Thailand's first-quarter GDP was down 2.2% from the previous quarter. An earlier version of this post incorrectly said it was down 2.2% from a year earlier.
(Source: http://blogs.wsj.com/searealtime/2013/06/18/bank-of-thailand-rising-household-debt-a-concern/)
SINGAPORE:
CORRECTED-UPDATE 1-Singapore cuts CPI outlook, warns of household debt risks
By Kevin Lim Source: Reuters
(Corrects Singapore dollar's gains versus pound, euro in 17th paragraph)
* MAS inflation outlook revised lower to 2-3 pct for 2013
* Singapore inflation now within MAS's "comfort range"
* Growth to meet 1-3 percent forecast
* MAS posted S$10.6 bln net loss in 2012-2013 fiscal year
SINGAPORE, July 23 (Reuters) - Singapore's central bank lowered its inflation outlook for the year on Tuesday but said it was concerned about household debt levels as interest rates looked set to rise.
The Monetary Authority of Singapore (MAS) revised downwards its inflation forecast for 2013 to 2-3 percent from an earlier 3-4 percent, citing the sharp fall in car prices earlier this year as well as a slower rise in accommodation costs.
Economic growth this year will "comfortably" meet the official forecast of 1-3 percent, the central bank added, citing the strengthening U.S.
economy
and Japan's expansionary policies that will likely offset headwinds from a slowdown in
China
and easing public spending in some Southeast Asian countries.
"For the first time in three years, CPI inflation has come down closer to historical trends and within MAS's comfort range," MAS managing director Ravi Menon said during a press briefing for the release of the central bank's annual report.
But MAS warned that core inflation -- which excludes cars and accommodation since these were more influenced by government policies -- could rise "moderately" to 2 percent or slightly higher in the latter half of 2013 due to continuing tightness in the labour market.
Headline inflation averaged 2.8 percent for the first half of 2013, data showed.
MAS was committed to ensuring that the recent improvements in inflation were sustained and the "current policy stance of modest appreciation of the Sing dollar is appropriate in containing re-emergence of strong cost and price pressures in a restructuring
economy
," Menon said.
Singapore's economy grew by just 1.3 percent in 2012 while headline inflation was 4.6 percent.
The central bank, however, expressed concerns about rising household debt in the city-state and said an estimated 5-10 percent of borrowers had "probably over-leveraged on their property purchases" based on their total debt service payment ratio of more than 60 percent of monthly income.
"If mortgage rates were to rise by 3 percentage points, the proportion of borrowers at risk could reach 10-15 percent," Menon said.
Menon said household balance sheets in Singapore were resilient at an aggregate level, with cash and deposits exceeding debt, but the healthy balance sheets were not uniform across households.
Banks
in Singapore now offer housing loans at around 1.1 to 1.2 percent per annum, well below the 3.5 percent level that financial institutions must use when calculating debt servicing ratios of potential borrowers based on the latest central bank requirements.
FX LOSSES HIT BOTTOM LINE
MAS on Tuesday also posted a net loss of S$10.61 billion ($8.39 billion) for its last fiscal year ended March 2013 as the local dollar's gains against the yen and euro diminished the value of its foreign currency holdings.
The loss, its second in three years, was just slightly below the record S$10.9 billion deficit incurred in financial year 2010/11 when the Singapore dollar also soared.
MAS made a net profit of S$2.77 billion in FY2011/12.
"We made good investment returns, but when measured in Singapore dollars these gains were more than offset by the strength of the currency," Menon said.
The Singapore dollar gained 13.8 percent against the yen and 5.1 percent against the euro in the 12 months to March, the MAS said. During the same period, the Singapore dollar rose 6.2 percent versus the British pound and 1.3 percent against the dollar.
The central bank had total assets of S$340.4 billion as at end-March 2013, up from S$319.2 billion at the end of the previous financial year.
Assets held by MAS are mainly for managing the Singapore dollar's value against a basket of
currencies
and to defend the local unit when required. The task of ensuring the country earns adequate returns on its massive foreign exchange reserves lies with GIC, formerly known as the Government of Singapore Investment Corp, which has an estimated $300 billion.
($1 = 1.2649 Singapore dollars) (Editing by Jacqueline Wong)
(Source: http://www.reuters.com/article/2013/07/23/singapore-economy-mas-idUSL4N0FT0YM20130723)
Rising household debt in S'pore worrying: MAS
Updated: 07/23/2013 12:21

|
Rising household debt in S'pore worrying: MAS
---
SINGAPORE: Singapore's central bank said rising household debt in the city-state is worrying, and that it is "important to act now to limit build-up of leverage".
Housing loans account for 45 per cent of GDP, up from 35 per cent three years ago. The rising levels of borrowings in the local real estate sector is a concern, said the Monetary Authority of Singapore (MAS).
Ravi Menon, managing director of the MAS, said that 5 to 10 per cent "have probably over-leveraged their property purchases".
He said: "Many households could have over-extended themselves, fuelled by low interest rates and stretched loan tenures. The vast majority of mortgage loans in Singapore are on floating rate packages, which means households will face higher monthly repayments when interest rates normalise."
For example, they have total debt service payments at more than 60 per cent of their income.
Mr Menon added that if mortgage rates were to rise by 3 percentage points, the proportion of borrowers at risk could reach 10 to 15 per cent.
Speaking at a press briefing, Mr Menon also said the Singapore economy will "comfortably meet" the growth forecast of 1 to 3 per cent this year.
According to the central bank, "GDP growth should pick up over the course of the year amid an improving external environment".
S

in

gapore's economy grew 1.3 per cent in 2012.
The MAS said the forecast for headline inflation will be revised down to 2-3 per cent, from 3-4 per cent previously. The core inflation forecast for 2013 remains at 1.5-2.5 per cent.
Mr Menon said that this is the first time in three years that CPI inflation has come down closer to historical trends and within MAS' comfort range.
Headline inflation was elevated at 4.6 per cent last year due to higher residential property rentals and car prices, while core inflation, which excludes accommodation and private road transport, averaged 2.5 per cent in 2012.
The MAS had paid-up capital of S$25 billion as at 31 March 2013, unchanged from the end of the previous financial year, according to its annual report.
The MAS does not hand over any profits to the government during the financial year when there is no accounting profit.
The Singapore central bank made a net loss of S$10.61 billion in fiscal year 2012/13, reversing from the gain of S$2.77 billion in the previous financial year.
The MAS said its good investment returns over the year were more than offset by the strength of the Singapore dollar.
"This is an issue of reporting currency. If we had reported our profit and loss in international currency, it would show a healthy profit," said Mr Menon.
Total assets managed by Singapore-based asset managers were S$1.63 trillion as of the end of last year, 21.5 per cent percent higher year-on-year due to "strong inflows and higher market valuation". - CNA/xq
(Source: http://news.xin.msn.com/en/singapore/rising-household-debt-in-spore-worrying-mas)
How dangerous Is Singapore's soaring household debt?
The wealthy Southeast Asian nation Singapore has seen soaring household debt levels in recent years as low interest rates have led to a borrowing spree, prompting the government to step in to curb demand.
This island state, which is an important financial hub, has among the highest level of household borrowing relative to gross domestic product (GDP) in Asia at 77 percent, rising from around 64 percent in 2007. Home loans, which account for around three quarters of household debt, have grown rapidly in recent years together with a booming property market.
Now with bond yields beginning to climb – the 10-year Singapore government bond yield has risen to 2.5 percent from 1.4 percent in May – concerns are growing over whether there is a debt bubble in the making.
"The buildup in leverage starts becoming a risk when short term rates – which are linked to mortgage rates - start to move higher," said Taimur Baig, economist at Deutsche Bank, noting that this could take place as early as 2014 if the U.S. Federal Reserve decides to hike interest rates. The benchmark Singapore interbank overnight rate (SIBOR), used to price housing loans, tracks rates in the U.S.
"It's definitely a concern, any country that has household debt at a high level will face problems when interest rates go up," said Baig. "While there may not be bankruptcies, there will be a transition that entails some pain."
Within Asia, Singapore ranks just behind South Korea and Malaysia whose household debt levels stand at 88 percent and 80.5 percent of GDP, respectively.
Economists, however, note that the healthy growth in financial assets in Singapore will temper the blow from higher interest rates.
"While, rising household debt is a concern, it should also be viewed in context with the asset side of the balance sheet. If needed, they [borrowers] could draw down on deposits," said Michael Wan, economist at Credit Suisse.
"It is a popular theory with owners of real estate that there is holding power, people have the wealth. That argument has some merit," added Baig.
Household financial assets – which include currency, bank deposits, shares and securities – have risen to 86 percent of GDP from 72 percent in 2007.
"I think household sector balance sheets are strong – so it's not a concern around solvency," said Wan. "When interest rates do rise, households will have to pay higher monthly mortgage payments as portion of income - not just for housing but to service car loans. This could crimp private consumption – I think that's where the risk is, " he said. Private consumption makes up around 40 percent of the country's GDP.
In the recent months, the Monetary Authority of Singapore (MAS), the country's de facto central bank, has introduced new measures to limit consumer debt.
Most recently at the end of June the MAS announced a new framework which requires financial institutions to take into account borrowers' other outstanding debt obligations when granting a property loan. The rule ensures that the property buyer's monthly loan payments do not exceed 60 percent of his income.
This framework used for approving home loans, may be extended to other types of loans as well, including car and student loans, the Straits Times reported on Friday.
"We believe these measures are prudent and will limit systemic
(Source: http://www.cnbc.com/id/100882025)
Source: Property Guru Singapore & Yahoo! News
Up to 9,000 Singapore private property owners could be forced to sell their homes if interest rates rise in the city-state, according to an analyst report published today.
On the back of news that up to 10 percent of Singapore households may have already over-leveraged their private property purchases beyond the new 60 percent limit that was recently imposed by the Monetary Authority of Singapore (MAS), wealth management firm Religare Enterprises has cautioned its clients to avoid investing in Singapore property developers.
In its ASEAN Property Pulse report released today, the research arm of the India-based firm explained that between 10 -15 percent of borrowers could be in financial trouble should interest rates rise in Singapore.
MAS has reported that between five to 10 percent of Singapore households could have over-extended themselves, fuelled by low interest rates and stretched loan tenures. The majority of mortgage loans in Singapore are floating rate packages, according to the company, which means households will face higher monthly repayments when interest rates normalise.
Religare has predicted that a rise in interest rates could see more than 9,000 financially troubled properties being listed on the market – assuming a figure of 10 percent of the 90,000 private homes that are scheduled to be completed between now and 2016.
The authors of the report said: "Another worrying statistic is that only 70 percent of the loans are for owner-occupied homes, meaning investor demand in private homes is running quite high."
Housing Development Board (HDB) properties and executive condominiums (ECs) have to be purchased for self-occupation, the company noted, so all property investment demand is in the private property sector.
"A little wobble in prices combined with higher interest rates might shake up a few property investors as well and add to the possible troubled units on the market," the report said.
The company has advised its clients to be cautious on the Singapore residential property market and against investing in Singapore property developer shares.
"We expect prices and rents to correct over 2014-15 on the back of completion of more than 90,000 units between 2H 2013 and 2016," it predicted.
Andrew Batt, International Group Editor of PropertyGuru, wrote this story. To contact him about this or other stories email andrew@allproperty.com.sg
(Source: http://sg.finance.yahoo.com/news/analyst-9-000-troubled-units-could-market-043903478.html)
Malaysia's Credit Squeeze: Property & share prices SURE TO FALL?
Written by Sam Chee Kong, Malaysia Chronicle
Wednesday, 10 July 2013 09:58
EDITOR'S PICK Malaysia's current household debt problem is not the result of our government's recent policies to encourage private expenditure. Actually, the current debt problem has been accumulating for the past 15 years. The history of Malaysia's household debt can be traced back to 1997 when the household debt to GDP was only 39% then. This was also the year that Malaysia was struck by the Asian Financial crisis.
Since then, Malaysia embarked on an expansionary fiscal and monetary policy which led to an expansion of credit and also the proliferation public projects so as to extract its economy out of the recession. During the Asian Financial Crisis in 1999 Malaysia's GDP per capita felled to $3653.83 compared to $4043.64 recorded in 1998. However since then as the expansionary policies worked its way into the economy, Malaysia's GDP per capita risen as a result. This can be shown by the following graph on Malaysia's GDP per capita since 1995.
To encourage the private sector to spend, lending procedures are relaxed and interest rates are held low. As a result of the increases in both private and public expenditure, Malaysia's GDP recorded a fourfold increase in 2012. In 1999, Malaysia's GDP was valued at $72.175 billion and has since risen to $303.53 in 2012. This can be shown by the following chart.
However, the credit expansion brought about by our government earlier has led to a further increase in the household debt. As of 2010 Malaysia's household to GDP debt has reached 78% where more than 55% of the loan concentration is in the mortgage market and 23% into the automotive market. And in 2012 the ratio went up to 83% which represents an increase of 13% from 2011.
Our next question is what contributed to our record Household Debt?
False Expectation of improved economic conditions brought about by our Government. We have mentioned many times in our previous articles that our Government has been painting a false picture on the real condition of our economy. With the aid of the media we are led to believed that our economy is growing at a healthy pace (GDP growth of 4.1%), our stock market is resilient, our housing market is healthy and sustainable (no bubble yet) due to the increasing rural to urban migration of the workforce and so on.
The easy availability of credit in the past and the lack of supervisory on the part of Bank Negara had led to an enormous build-up of the private sector debt. We shall present again the following chart which we have already mentioned in our last article titled 'Is our GDP growth a Hoax?'
The following is the chart for the total debts by the private and Government sector as of 2011.
Given the GDP of RM 860 billion we can then proceed to calculate the Debt/GDP ratio of both the public and private sector. The table below summarizes the ratio of domestic and foreign debts held by the public and private sector.
From the above we can conclude that at the present moment the private sector poses a greater risk to financial default than the public sector. This is due to the fact that the private sector is much more exposed to any downside risk, arising not only from size of the debt (87%) but also its exposure to foreign debt (28%). Large exposure to foreign debt is risky because it is subjected to movements in foreign currency (US$ in this case) or external systemic market risk.
The movement of the US dollar creates currency risk or what we called 'Foreign Exchange Exposure' in Treasury terms. Foreign Exchange Exposure refers to the risk associated to a decline in a country's currency. Currency depreciation can have the effect of reducing a company's profits due to increased cost in imports or loss due to the higher repayments of loans denominated in US dollar.
How big a loss associated with currency movement depends on our Ringgit. On the negative node our country is currently running a 'Twin Deficits'. Twin Deficits refers to a situation when we are having two economic problems at the same time (Budget Deficit + Balance of Trade Deficit). Twin deficits are known to create havoc in an economy by accelerating the decline of a country's currency and in this case the Ringgit. So, obviously the risk of default in our private sector has certainly increased due to the problems coming in from multiple fronts.
A boom in the Housing and Stock Market. The boom in the housing and stock market for the past couple of years has increase the risk appetite of investors. Somehow they reckoned they have found a way to make money without putting much work. To them making money can be as easy as sitting in the stock market and pressing some buttons or flipping some real estates. Hence this led to many of them holding to a portfolio of 3 to 4 houses which risked being wipe-out should there be a serious downturn in the real estate market.
A strong response from the private sector especially from the business community to increase their exposure to debt due to the expectation of better times ahead.
Problem with ARMs Mortgage
Another problem we are facing is that about 80% of the loans given to the housing market are in the ARMs (Adjustable Rate Mortgages) category which is also known as 'teaser loan' in the U.S. To lure prospective borrowers, banks offered very low initial repayments (such as BLR – 2 to 4%) during the first 3-5 years. Once that duration expires or resets then borrowers will have to start paying higher mortgages. That's where the nightmare comes in.
For example, a RM 200,000 loan with tenure of 20 years, the initial repayment can be as low as RM 800 a month. When the 3-5 years period expires, the loan will be automatically resets to higher interest rates, probably (BLR + 0%) and repayment will be more than RM 1000 per month. One thing to remember is that ARMs is one of the major contributors to the U.S Housing meltdown. The following is the U.S Monthly Mortgage Rate Resets.
As can be seen above, the U.S housing crisis is yet to be over as the mortgage resets will continue beyond the year 2015. As for Malaysia our total housing loans has risen to MYR 222.2 billion from about MYR 25 billion in 1996.
Below is the chart for the housing loans to GDP as from 1996 to 2011.
It shows that the outstanding housing loans has been on the rise since 1996 and reached MYR 222.2 billion in 2011 or around 26.1% of GDP, up 11.8% from a year earlier.
An oversupply of Housing?
According to C.H. Williams Talhar & Wong, there is an oversupply of high-end condominiums in Malaysia especially in Kuala Lumpur, Johor Bahru, Kota Kinabalu, Kuching and Penang. The following chart shows the relationship between the housing approval and oversupply.
The over-supply of high-end condominiums remains a concern while a further 2,300 units of high-end condominiums will be completed in 2012, half located in the Kuala Lumpur City Centre (KLCC).
In total, around 54,557 properties were unsold at end-2011, down 2.3% on the previous year, and down 34.9% from the 2004 peak of 83,811 units. There was a 62.3% decline in house launches during the year to Q4 2011. It clearly shows that the housing market is already softening since the end of 2011. Moreover, we also received reports from real estate agents complaining that high-end properties (over MYR 1 million) are very sticky or difficult to sell.
Bank Negara Malaysia's new measures
We are certainly living in interesting times. Fundamentally, our economy is weak. Our exports are plunging, our trade balances and deficits are negative and the only things that are going up are our companies bankruptcy that is on record territory, stock market, consumer spending, inflation, private and public debts. It seems like things are moving in opposite directions. Positive economic indicators are moving down while negative economic indicators such as inflation and household debts are moving up.
In view of our credit expansion problems, Bank Negara Malaysia (Central Bank of Malaysia) is implementing the following measures to curb the excessive debt incurred on the private sector namely the Household and Housing sector with immediate effect (06/07/2013).
> Reducing tenure of housing loans from 45 to 35 years
> Limiting tenure of personal loans to the maximum of 10 years.
> Prohibition of offering pre-approved personal financing products.
Before we address the effects of the above measures, we would like to digest what Bank Negara hoped to achieve with the above measures. In short, Bank Negara is trying to reduce the banking sector's exposure to real estate and personal loans. In trying to do so, it is employing a strategy known as 'shortening of maturities'. This can be literally translated in plain English as 'the government is more concerned with short term instability than promoting long term growth'. In part, these measures we believe are also directed towards resolving our big budget deficits and Government Debt to GDP problem. Again these problems are due to our excesses in the past few years of credit expansion.
So how will the Government going to fix this problem? Our Government hoped that by reducing the credit, it will help reduce domestic consumption on consumer goods and real estate and at the same time try to expand the exports. This in time will helped reduce the trade balance due to the increase in exports and decrease in imports. By this our Government hoped to help built a sounder economy with a better income foundation and lesser debts.
However along the way a lot of people are going to get hurt due to the credit squeeze but there is no other choice if we want a transition to a better and more sustainable economy. Hopefully, more resources will be directed towards the more efficient part of the economy such as building more plants, better infrastructure, modernising production facilities or anything that can help the economy to make real products which can be used for domestic consumption or exports which will in turn earn foreign exchange. Our next question is will it work?
Will it work?
It appears that Bank Negara is definitely worried on the banking sector's exposure to real estate. Any big downturn in real estate prices will definitely have profound effects on the economy. Among them are unemployment resulted from the construction related business and also the growth of NPLs in the banking sector. Below are the problems that may arise as a result of the latest measures.
Limitations to Monetary Policy – Long Lag
Central Banks have always been prudent in their approach towards the economy and that is the main problem. Sometime they waited too long before they act or when the problem is evidently long in its tooth. The slow response may be due to the problems associated with monetary policy implementation and they are the long-lag response and genie out of the bottle response. Monetary policy such as increasing the interest rate to counter inflationary pressure might take 6-9 months to work its way into the economy. If they waited until the inflationary effect is visible to us then it is already too late because the inflationary effect has already accelerated too much and the interest rate increase will have not much effect in contracting the economy.
Similarly to what is happening in Malaysia. Bank Negara should have taken action many months ago to stem the borrowing to the private sector and not waited until the problem becomes obvious. Now when they starting to take action, the genie is already out of the bottle and it is all but one hell of a difficult task to stuff the genie back into the bottle. The above measures will only have effects on new loans, how about the old ones?
Problem with our Shadow Banking System
This I would like to point out that as in many other countries we also have two different banking systems. One is called the formal banking where their operations are regulated by Bank Negara and the other one is the informal banking which is unregulated by Bank Negara. The informal banking system or Shadow Banking System consists of lending from private money lender and credit companies, inter-company loans, corporate bonds and loans by investment companies
Due to the current credit squeeze those who are unable to qualify for loans in the formal banks will turn to the informal banks. There are already a lot of evidence of individuals and SMEs and even developers are getting loans from the informal banks where maturities are short and interest rates are high. The problem is we do not know how large our informal banks are and what type of portfolios they are holding. Another problem is we do not know what sort of linkage or relationship between the formal and informal banks. If they are linked and if our real estate market were to collapse then the resulted decline in real estate prices will be serious, due to the following.
There will be force sales of real estate financed by the informal banks. This self-reinforce selling will further depress the prices of real estate. This is the last thing our Government wants because when the informal banks start to liquidate their assets to raise cash then it will cause further downward pressure on the market.
Informal banks may have got their funding from the formal banks. So any credit squeeze will certainly have effect on the operations of the informal banks which might force them to shorten the maturities, recall or totally freeze their loan operations.
Without funds to finance their operations, many businesses may have to cease their operations. With the expected softening of the real estate market developers who have been snapping up land to build up their land banks will find it difficult to stay afloat. This can be shown with the following chart on bankruptcies in Malaysia from April 2011 to May 2013.
As from the two charts above, Malaysia recorded an increase in company bankruptcy. Total company bankruptcies reached a high of 1981 companies in April 2013. This is the highest ever number of bankruptcies recorded since January 1998. In view of the credit crunch we expect to see much more bankruptcies in the month ahead.
Hence, such risk is real and is already happening. Credit squeeze means there will be lack of funds available to individuals and companies and hence liquidity. Since liquidity is the lifeline of both the housing and stock market, a lack of it will definitely have profound effects on them. Lacked of liquidity will cause seizing up of transactions because of the negative expectations on the economy will make people and businesses lee willing to spend, which eventually will drive prices down. Even before the implementation of the credit squeeze the housing market has already shown signs of weakness.
The Housing index refers to the residential construction activity during a period of time. As indicated by the housing index below, our residential construction activity has declined to 6% in the first quarter of 2013 from 12.2% recorded in the last quarter of 2012. It represents more than a 50% drop on a quarter to quarter basis. At 6% it brings us back to the level recorded in the early 2010 when our economy is just started to recover from the Global Financial Crisis in 2008. This big drop in housing activity certainly worries the authorities and which might be attributed to the over-leveraged consumers and also the peaking of the housing prices.
Housing prices in Tier-1 cities in Malaysia namely Kuala Lumpur, Penang and Johor Bahru has seen an unprecedented rise due to the easy availability of credit that resulted in a speculative frenzy. Any investment that is buoyed by easy credit especially housing and the stock market will eventually end up in a bubble. Despite numerous denials by our authorities the housing market in Malaysia has long been in a bubble.
As for the Stock Market we are saying it again. Sell and walk away. From the chart the market has been on the Distribution phase since 05/05/2013. We have drawn two lines that represent the distribution area and we will expect the market to breakdown from the lower line in the coming weeks. By then you will see an extremely volatile market.
Due to the credit contraction we are expecting a continuation of decline into the next few months. Any rebound will be another bear trap and we are seeing a much lower index in the next few weeks and month. In short we are BEARISH!
Malaysia Chronicle
(Source: http://www.malaysia-chronicle.com/index.php?option=com_k2&view=item&id=126412:malaysias-credit-squeeze-property-share-prices-sure-to-fall?&Itemid=2#.UfCnIYeQ-M9#ixzz2a2ZLjFbG

)
Consumer debt in Malaysia needs watching
Published July 18, 2013 Source: Business Times (BT)
MALAYSIA'S central bank must be commended for its measures to cool consumer borrowing: at almost 83 per cent of GDP, the country's household debt level is among the highest in the region and could prove worrisome for the financial sector in the event of, say, a sudden global uptick in interest rates. The three measures that Bank Negara announced include a maximum tenure of 10 years for personal loans; a maximum tenure of 35 years for property loans; and a ban on preapproved personal financing products.
Malaysian household debt is currently the second highest in Asia after South Korea's 91 per cent but comfortable compared to many Western economies, which have debt levels in excess of 90 per cent. Even so, Malaysia's debt is growing at 11.5 per cent a year - and could hit 97 per cent in 2018 even if GDP growth rose to 7.5 per cent per annum.
In fairness, the banking system seems fairly robust right now. In fact, household non-performing loan (NPL) ratios have fallen dramatically over the past few years from 7.5 per cent in 2006 to just 1.4 per cent presently. Moreover, cumulatively, savings - in terms of deposits and contributions to the Employees Provident Fund - in 2012 were at a comfortable 108 per cent of household debt. Asset quality also remains impeccable, financial assets coverage is high, and there is almost full employment. The central bank had been keeping a wary eye on the situation for some time now. The number of credit cards in circulation has fallen from a peak of 10.8 million in 2008 to 8.2 million by the end of May 2013, following Bank Negara's move to restrict credit card issuance in 2011. Credit card balances make up just 4.2 per cent of household debt today.
The central bank has also been leaning on the banks to cut down on personal loans to civil servants. And it has worked. Several banks (notably Public Bank, Hong Leong Bank and Alliance) have already pulled back from extending personal loans to government servants. As a result, growth of the industry's personal loans dropped from 20.1 per cent in 2011 to 9.1 per cent in 2012, and 8 per cent year-on-year in May 2013. But if the banking system is relatively unaffected, indebted individuals may not be. Too many Malaysians, especially low-level government staffers, are heavily in debt - so much so that many work two jobs and depend on credit to keep financially afloat. Moreover, there is anecdotal evidence that some of these people are resorting to borrowing from loan sharks, if their access to banks is curbed.
(Source: http://www.businesstimes.com.sg/premium/editorial-opinion/editorial/consumer-debt-malaysia-needs-watching-20130718)